We are delighted to announce our search for a new editor is over. Please join us in welcoming Lana Hughes to the phenomenal #FECrew.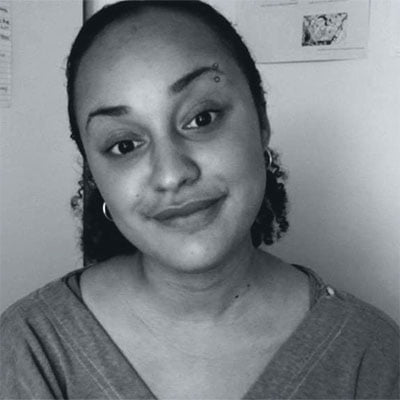 An artist and writer from Hertfordshire, Lana studied Fine Art at Glasgow School of Art, where she developed a particular interest in poetry and video art. Her reading and research interests include science fiction, pop culture, cultural criticism, comedy and the uncanny. An author herself, Lana's first poetry pamphlet Sylvie Siren and Other Poems was published by Zarf Editions in 2019.
Joining flipped eye on 26th July 2021, Lana will receive hands-on editorial training, and will be tasked with discovering the most exciting new voices from the next generation of writers, by working closely with the team from acquisition right through to publication. Her tasks will include reading and evaluating submissions; learning about fact checking and copy editing; gaining an introduction about sequential and structural editing; briefing covers and writing blurbs and cover copy; gain industry-trend awareness through research on emerging poets and published collections.
"I'm thrilled to be joining flipped eye as an editorial intern. I'm excited by flipped eye's approach to publishing and I'm looking forward to working with the FE team, learning as much as I can about editing and the publishing industry."

Lana Hughes
A powerful advocate for true representation in the publishing industry, from the boardroom to the very nature of the stories they allow the world to experience, flipped eye reflects its breadth of perspective in its editorial team too. All of flipped eye's current editors come from non-traditional editing backgrounds, and none of them trained within the publishing establishment.
Nii Ayikwei Parkes, Director and Senior Editor at flipped eye, speaks for us all when he says "We are really excited to welcome Lana as our new editorial intern next week. Given our not-for-profit and development ethos, we continually seek to make positive change where we can. Opportunities like this are made possible by the rights income from deals such as the one we have recently done with Warsan Shire. This income allows us to continue to reshape the publishing industry, by giving entry-level opportunities to non-traditional entrants."
flipped eye's focus on cultivating potential, and giving a platform to stories that represent a truly global scope of lived experience and literary traditions, literally "flips" the traditional mainstream, giving prominence to writers from all sectors of society and publishing the widest possible range of voices. Working with a not-for-profit model since its inception in 2001, we are a lean, reader-focussed, writer-loving support system for culture that matters.
Please read our full release here.